Mumbai style Pav Bhaji
Here is an easy,original and best recipe of the classic and popular Mumbai street food, Pav Bhaji…spicy mashed vegetables served with Pav Bread.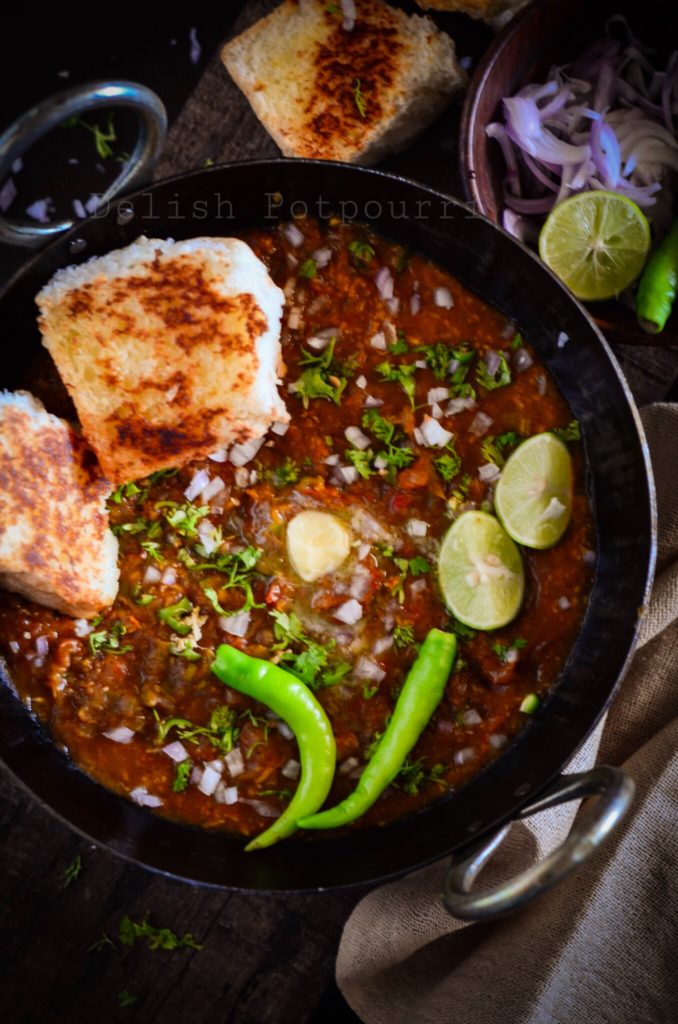 What's the story behind the origin of quintessential Mumbai street food Pav Bhaji?
The dish was invented by street vendors when the Textile mills opened up in Mumbai.The workers were given few minutes for their lunch break, so to cater to their needs a cheap, easy, light and nutritious meal was invented. The mishmash of different veggies with a spice mix was called Bhaji or curry served with Pav Bread or Pao which was introduced in Mumbai by the Portuguese during their brief presence in the city. And this is how Pav Bhaji was born.
The Pav Bhaji is a quick grab and go meal not only popular in Mumbai but in all parts of India, in fact the most celebrated Indian street food. Be it family gatherings, birthday parties or just a snack option Pav Bhaji is a perfect fast food catering to everyone's tastes.
It had its humble beginnings from the streets of Mumbai but is a household name now and is available in all parts of India ,flavours tweaked to the taste of the people of that area. For example we have the Jain Pav Bhaji which is made without onion and garlic and raw bananas are used instead of potatoes and peas. The Punjabi style Pav Bhaji has loads of butter and Garam Masala accompanied by a huge glass of lassi.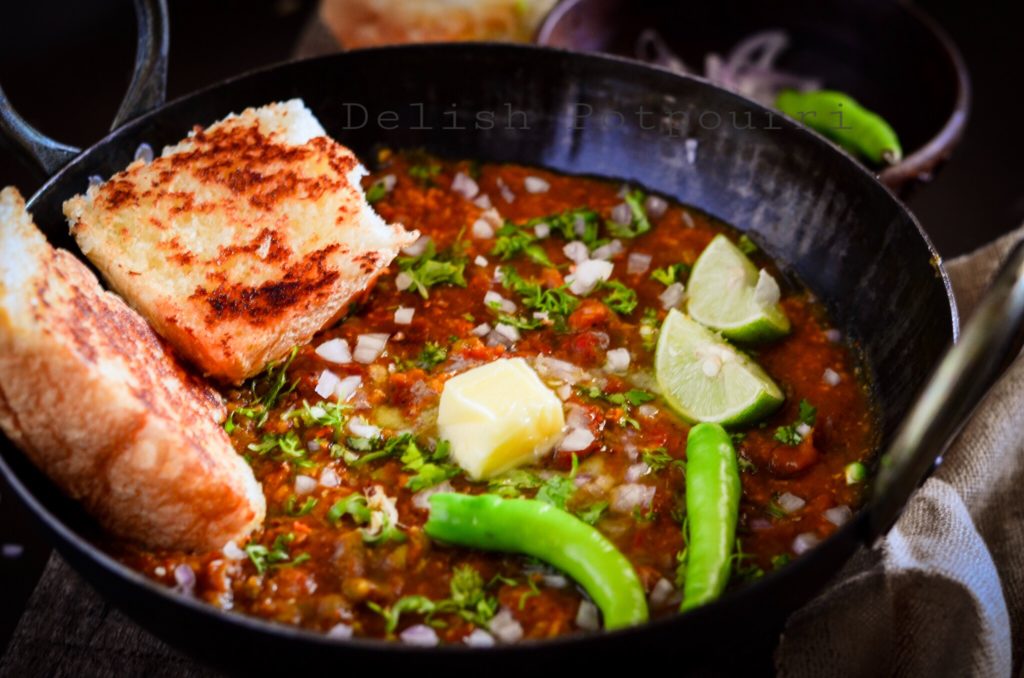 The method of cooking shared here by me is typical of the street vendors in Mumbai. I have used potatoes, capsicum, and peas for the Bhaji . Cauliflower and Carrots are also used by lot of people. Pav Bhaji Masala or the spice mix can be made at home but my personal favourite is the Everest spice mix. Some Vendors also use a personal touch to the Bhaji by adding grated Paneer and Dried Fenugreek leaves (Kasuri Methi) in their preparation but it's totally optional .The secret to a good Bhaji lies in adding water in little quantities in between and keep on mashing with a masher and of course a good amount of butter.😄Normally it's made on a huge iron griddle which makes mashing easier.
Sending this lip smacking, hot and spicy, flavourful Bhaji coupled with soft, butter dripping Pavs to the 144 th Foodie Monday Bloghop for the theme Maharashtrian Cuisine.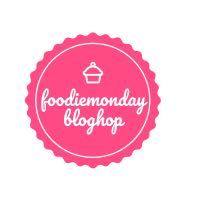 If You Try My Recipes, Please Use Hashtag #DelishPotpourri On Social Media So That I Can See Your Creations. Follow Me On Facebook,

Instagram

, Google Plus And Twitter For New Recipes And More.
For the Bhaji, heat a big flat pan and 1 tbsp butter to it.

Add the potatoes, tomatoes, peas and capsicum and cook for 3-4 minutes.

Add some water, turmeric powder, 1 tsp Pav Bhaji Masala, 1 tsp Chilli powder, 1 tsp ginger garlic paste and some fresh coriander and mix well. Cook for 1 minute and mash the veggies with a masher well.

Repeat the process of cooking,adding little water and mashing.

Keep the mashed veggies aside and in the same pan add 1 tbsp butter, the chopped onion, 1 tsp Ginger garlic paste, 1 tsp Pav Bhaji Masala,1 tsp Chilli Powder and sauté well.

Add the mashed veggies to the onion mix, add some water and salt and mash well in the pan.

Lastly add lemon juice and fresh chopped coriander .

To toast the Pav, in a griddle add the butter, the Chilli powder and Pav Bhaji Masala .Slice the Pav from middle and toast it with the butter.

Serve Pav with Bhaji with chopped onions, a dollop of butter and lemon slices.
Red colour can be used in the Bhaji but Kashmiri Chilli powder used in this recipe also gives a good colour .
Grated Paneer and Kasuri Methi can also be used in the Bhaji.
Green chillies can be used for garnish or in the cooking process if you like your Bhaji to be very hot and spicy 🌶.
---
---